EMEA President Prof. Rym Ayadi participates at the DebtCon5, the Fifth Sovereign Debt Research and Management Conference hosted by PCNS
The President of the Euro-Mediterranean Economists Association – EMEA, Prof. Rym Ayadi, participated at DebtCon5, the Fifth Sovereign Debt Research and Management Conference, highlighting that "a well-designed financial stability mechanism for Africa could address a looming debt crisis and subsequent negative spillover effects on the economies and societies."
The event was organised on 11 May 2022 by the Policy Center for the New South as an online parallel event in the framework of the Annual Interdisciplinary Sovereign Debt Conference, organized by the Graduate Institute of Geneva, the European University Institute and the GeorgeTown University.
DebtCon, now in its fifth cycle, is a flagship convening event of the Sovereign Debt Forum, a collaboration among Queen Mary and Georgetown Law, with participating institutions and scholars around the world. The objective is to bring together policy makers, academics, and market practitioners across institutional and disciplinary lines, to help contribute to solving urgent sovereign debt problems.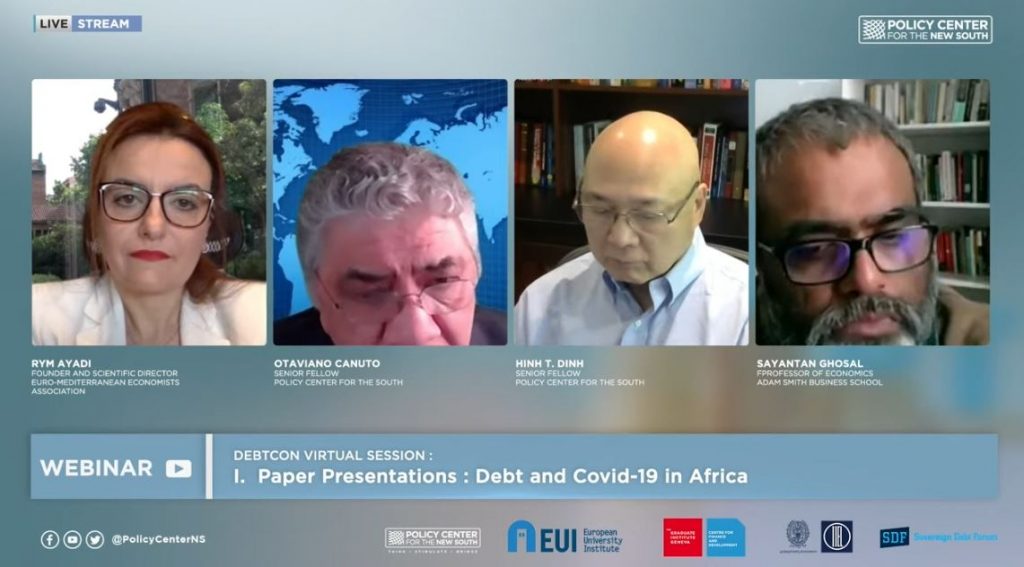 Prof. Ayadi participated on both sessions of the virtual event. At Virtual Session 1 "Paper Presentations", Prof Ayadi presented the paper "Preventing and Managing Debt Crises: The Role of Debt Transparency".
The first session was moderated by Otaviano Canuto, Senior Fellow, PCNC, and included Hinh T. Dinh, Senior Fellow, PCNS, Sayantan Ghosal, Professor of Economics, Adam Smith Business School, and Dania Thomas, Lecturer in Business Law, Adam Smith Business School.
Prof Ayadi also participated at Virtual Session 2 "Towards an African Financial Stability Mechanism" which discussed the idea of establishing an African financial stability mechanism along the lines of what has been done in Europe and if such a mechanism is feasible and successful on the African continent.
The second session was moderated by Hinh T. Dinh, Senior Fellow, PCNS and included Marcello Estevao, Global Director for Macroeconomics, Trade & Investment, World Bank, Thomas Laryea, International Lawyer Specializing in Finance and Sovereign Debt Restructuring, Orrick, and Emmanuel Pinto Moreira Senior Fellow, PCNS.
The Policy Center for the New South (PCNS) is a Moroccan think tank aiming to contribute to the improvement of economic and social public policies that challenge Morocco and the rest of Africa as integral parts of the global South. PCNS is an associate member of the EU-Mediterranean and African Network for Economic Studies (EMANES, formerly EMNES)